Wellness Matters: An open Forum on Physician Wellness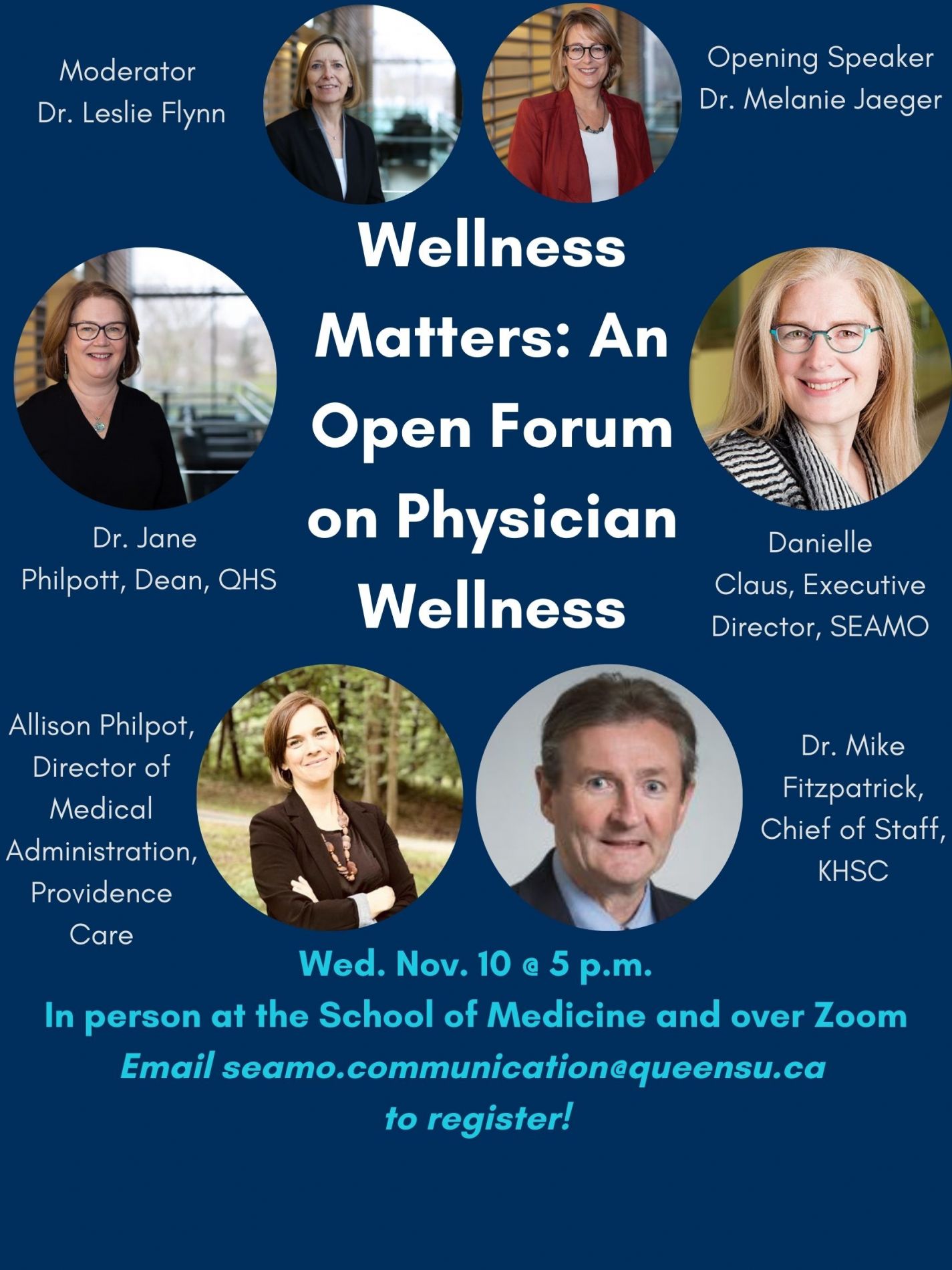 What? Wellness Matters: An Open Forum on Physician Wellness
When? Wednesday, November 10, 2021 from 5:00 – 6:00 p.m.
Who? Moderator: Dr. Leslie Flynn; Opening speaker: Dr. Melanie Jaeger; Panelists:
Queen's Health Sciences Dean Jane Philpott, Chief of Staff at Kingston Health
Sciences Centre Dr. Mike Fitzpatrick; Director of Medical Administration at
Providence Care Allison Philpot; and Executive Director of SEAMO Danielle Claus
Where? In person at the School of Medicine (room 132) and
simultaneously on Zoom
This will be a question-and-answer format to encourage dialogue between
physicians and leadership on how our organizations can support physician
wellness. Please email seamo.communication@queensu.ca to register for
this one-of-a-kind event, indicating whether you will attend in person or through Zoom.
---
Dr. Joanna Dion "In the Spotlight"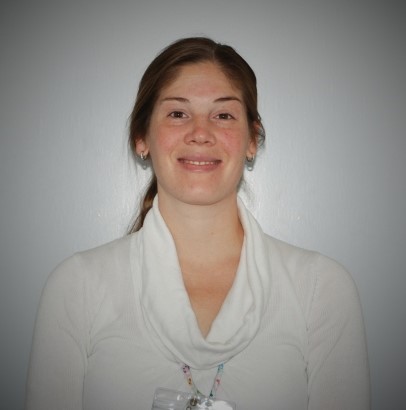 Dr. Joanna Dion has been an Anesthesiologist at KHSC for 6 Years!
Getting to know Dr. Dion
Q: Why are you so joyful in your work?
A: Helping people makes me happy.
Q: What is your favourite saying?
A: I've had worse.
Q: What is your favourite hobby?
A: Exercising.
Q: If you could eat only one food for the rest of your life, what would it be?
A: Ice cream cake.
Q: What is something that people think makes them look cool, but actually makes them look ridiculous?
A: Super short shorts.
Q: Is a hotdog a sandwich, why or why not?
A: No, not healthy enough for that designation.
Q: Who would you haunt if you were a ghost?
A: My parents
What are people saying about Dr. Dion!
Joanna is Friggin' Awesome!! She brightens up the PACU with her fast talking handover. She is so great with the Kiddos!
-Steph & Vicki (PACU)
She is always willing to help out a colleague.
-Dr. Diederick Jalink, Department of Surgery
---
New Publication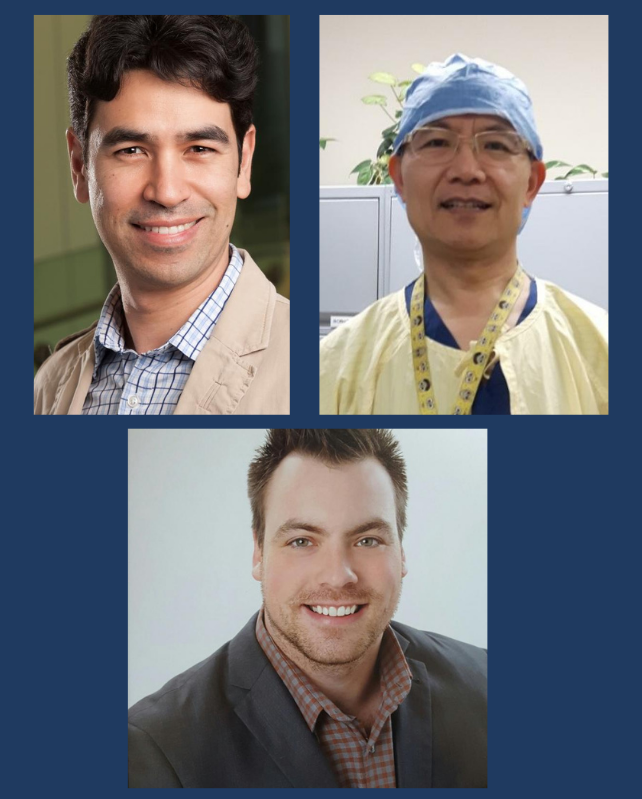 Congratulations to Drs. Mizubuti, Ho and Camire who, in collaboration with researchers in Brazil, recently published an
article on interventions to increase compliance to perioperative
VTE prophylaxis.
You can read the article here:
Comparison of strategies for adherence to venous thromboembolism prophylaxis in high-risk surgical patients:
a before and after intervention study
---
Patient Resources for Regional Techniques & Epidurals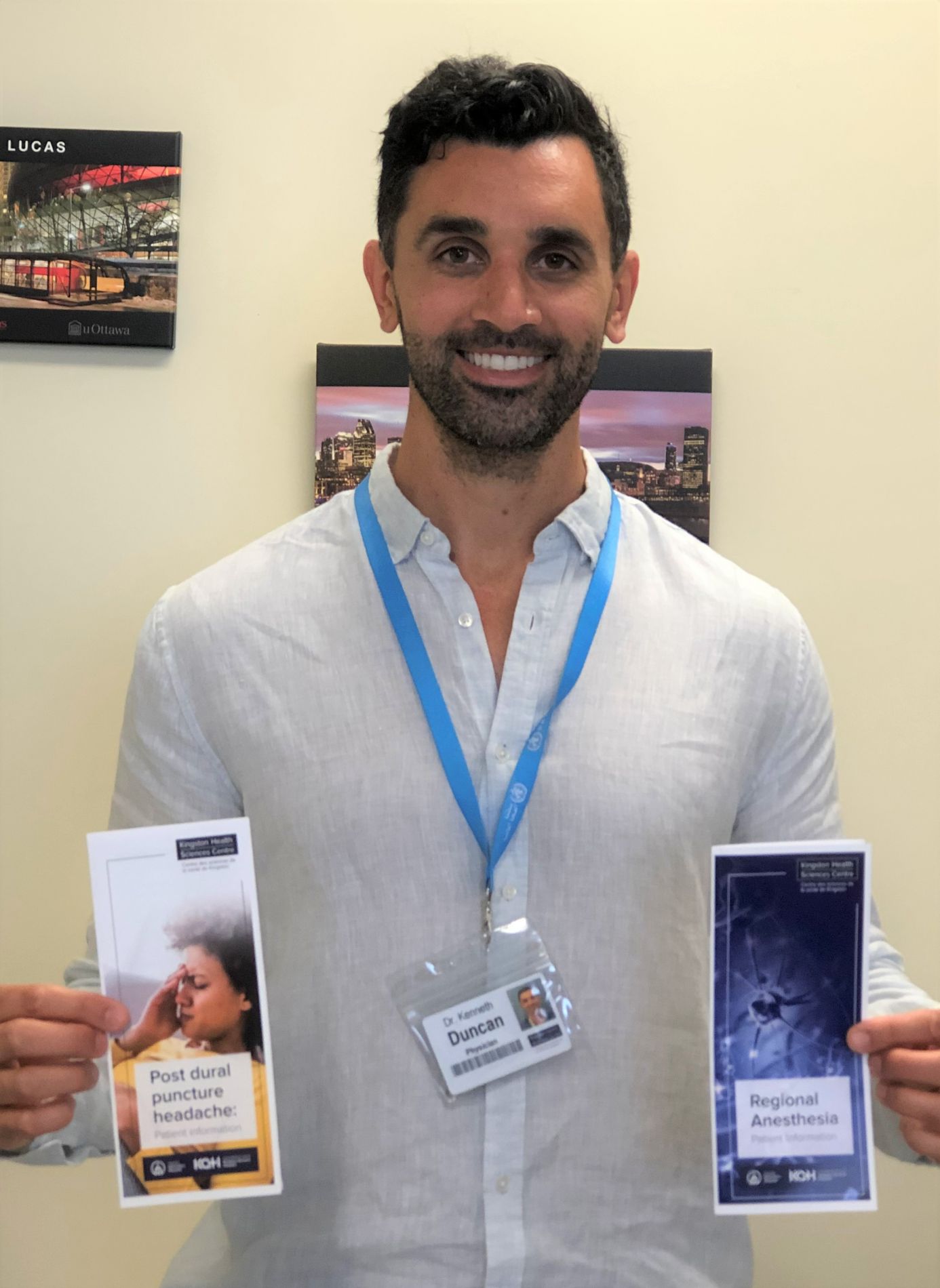 The Department of Anesthesiology is excited to roll out two new patient resources for regional anesthesiology treatments. The resources were developed to improve post-procedure outcomes for patients of regional anesthesia. The resources provide additional information regarding the type of procedures patients may receive from our regional anesthesia staff, and how to best manage their post procedure pain.
Recently Dr. Kenneth Duncan spoke about the resources, "Thank you to Queen's Anesthesiology for your help in creating these resources for patients receiving a regional technique or labour epidural. Hopefully these pamphlets can help improve our patient's experience for years to come."
You can view digital copies of the resources here:
---
Clinical Pain Research
July 15, 2021
In 2020/2021, Dr. Gilron, and his co-investigators, have been awarded a number of research grants ($2.3 million in total) from CIHR and the PSI Foundation, including 2 new pain management clinical trials. His group has also played a collaborator role with researchers from other institutions on several new project grants ($4.7 million in total).  
---
Congratulations Dr. Jaeger
July 6, 2021
Dr. Jaeger was recently recognized for her significant contributions to the Ontario Anesthesia Section's collaborative project SolvingPain initiative—a multifaceted program focused on improving pain management while helping to fight the opioid epidemic in Canada.
Learn more about the SolvingPain initiative
---
Congratulations Dr. Saha
July 6, 2021
As of September 1st Dr. Saha starts his year as the Facilitated Group Learning Director.
---
Congratulations Dr. Cummings
June 11, 2021
Dr. Michael Cummings appointed Chair of the Anesthesiology Specialty Committee, Anesthesia at the Royal College of Physicians and Surgeons of Canada as of July 1, 2021.
---
Queen's Anesthesiology and Global Health
June 9, 2021
Dr. Joel Parlow appointed Chair of Canadian Anesthesiologists' Society International Education Foundation (CASIEF).
---
Congratulations Dr. Rooney
June 9, 2021
Dr. Rachel Rooney is the D. Laurence Wilson Award Recipient 2021.
---
Congratulations Dr. Van Vlymen
June 9, 2021
Dr. Janet Van Vlymen Appointed Vice-President for the College of Physicians and Surgeons of Ontario
---
CAS 2021 Annual Meeting June 12-13, 2021
June 9, 2021
Dr. Parlow and Dr. Saha will be moderating panels at this event.
---