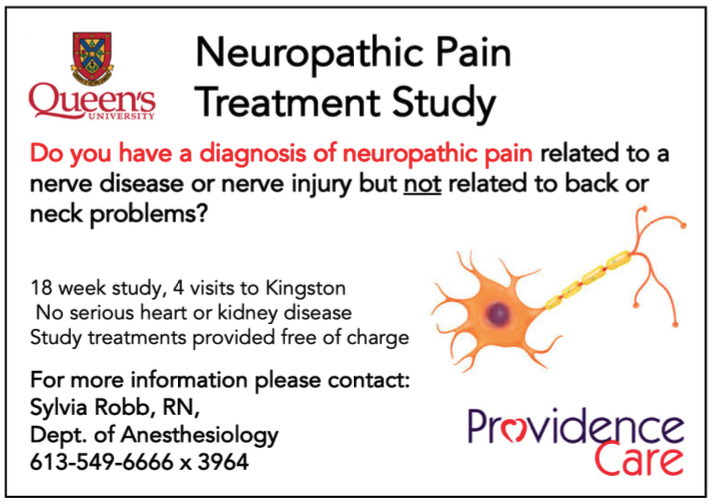 Neuropathic Pain Treatment Study
Queen's University researchers are conducting a pain treatment study in people with nerve injury or nerve disease, not related to back or neck problems.
Requires 4 visits to Kingston over 18 weeks & no serivous heart or kidney disease.
Study treatments provided free of charge.
For more information please contact:
Sylvia Robb, RN, Dept. of Anesthesiology
Kingston Health Science Centre - KGH site
613-549-6666 x 3964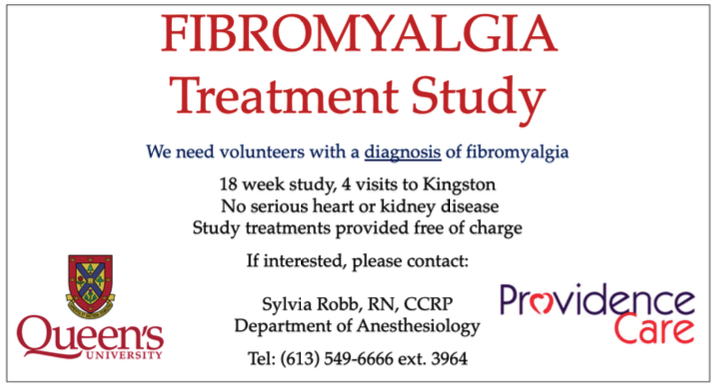 Have you been diagnosed with FIBROMYALGIA? 
Researchers from Queen's University, Kingston, need volunteers for a new fibromyalgia pain treatment study.
You must have fibromyalgia and no other serious medical conditions.
You would need to make 4 clinic visits to Kingston over 18-weeks. Study care and treatments are free of charge.
If interested, please contact:
Sylvia Robb, RN, CCRP
Department of Anesthesiology Kingston General Hospital,
Queen's University Tel: (613) 549-6666 ext. 3964